Semiclassical DFT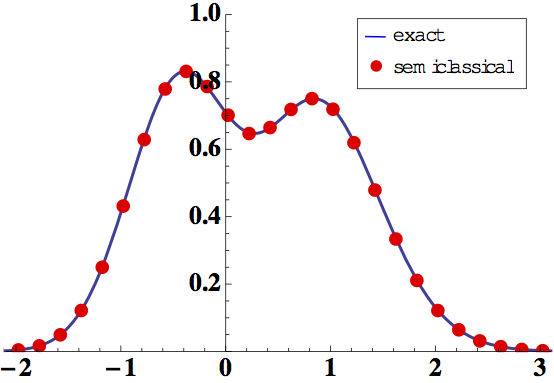 Semiclassical DFT Semiclassical refers to the meeting of classical and quantum mechanics. The classical world of Isaac Newton works in an intuitive way that appeals to our built in human common sense. Everything follows it's preordained path throughout time and space and the motions of all types of objects from balls to stars can be predicted with limitless precision. The quantum world looks like a wonderland of pure nonsense where nobody knows where things are, where they are going, and when they will be there (at least not exactly). The transition between these two worlds is a very interesting place worthy of study in it's own right. On top of that there are hints that DFT has it's origins as a semiclassical theory, and is properly understood in this context. Thus by studying semiclassical DFT we get another perspective on how quantum meets classical and also, hopefully, an understanding of where DFT comes from. This understanding will then give us a way to write exact density functionals from fundamental physical principles.
Publications
14 results
[170]

Deriving uniform semiclassical approximations for one-dimensional fermionic systems

,

The Journal of Chemical Physics

148

, 194103 (2018).
[159]

Corrections to Thomas-Fermi Densities at Turning Points and Beyond

,

Phys. Rev. Lett.

114

, 050401 (2015).
[158]

Locality of correlation in density functional theory

,

The Journal of Chemical Physics

145

, 054112 (2016).
[157]

Almost exact exchange at almost no computational cost in electronic structure

,

Phys. Rev. A

92

, 022513 (2015).
[146]

Potential functionals versus density functionals

,

Phys. Rev. A

88

, 062505 (2013).
[130]

Electronic Structure via Potential Functional Approximations

,

Phys. Rev. Lett.

106

, 236404 (2011).
[128]

Communication: Ionization potentials in the limit of large atomic number

,

The Journal of Chemical Physics

133

, 241103 (2010).
[125]

Leading corrections to local approximations

,

Phys. Rev. B

81

, 235128 (2010).
[122]

Potential scaling in density functional theory

, (2009).
[118]

Non-empirical derivation of the parameter in the B88 exchange functional

,

Canadian Journal of Chemistry

87

, 1485-1491 (2009).
[114]

Perdew et al. Reply

,

Phys. Rev. Lett.

101

, 239702 (2008). (Mattsson's comment (Phys. Rev. Lett. 101, 239701 (2008)))
[112]

Charge Transfer in Partition Theory\textdagger

,

The Journal of Physical Chemistry A

113

, 2183-2192 (2009). (PMID: 19215125)
[111]

Semiclassical Origins of Density Functionals

,

Phys. Rev. Lett.

100

, 256406 (2008).
[099]

Relevance of the Slowly Varying Electron Gas to Atoms, Molecules, and Solids

,

Phys. Rev. Lett.

97

, 223002 (2006).
Funding
We graciously acknowledge support from the NSF Grant No. CHE-1464795